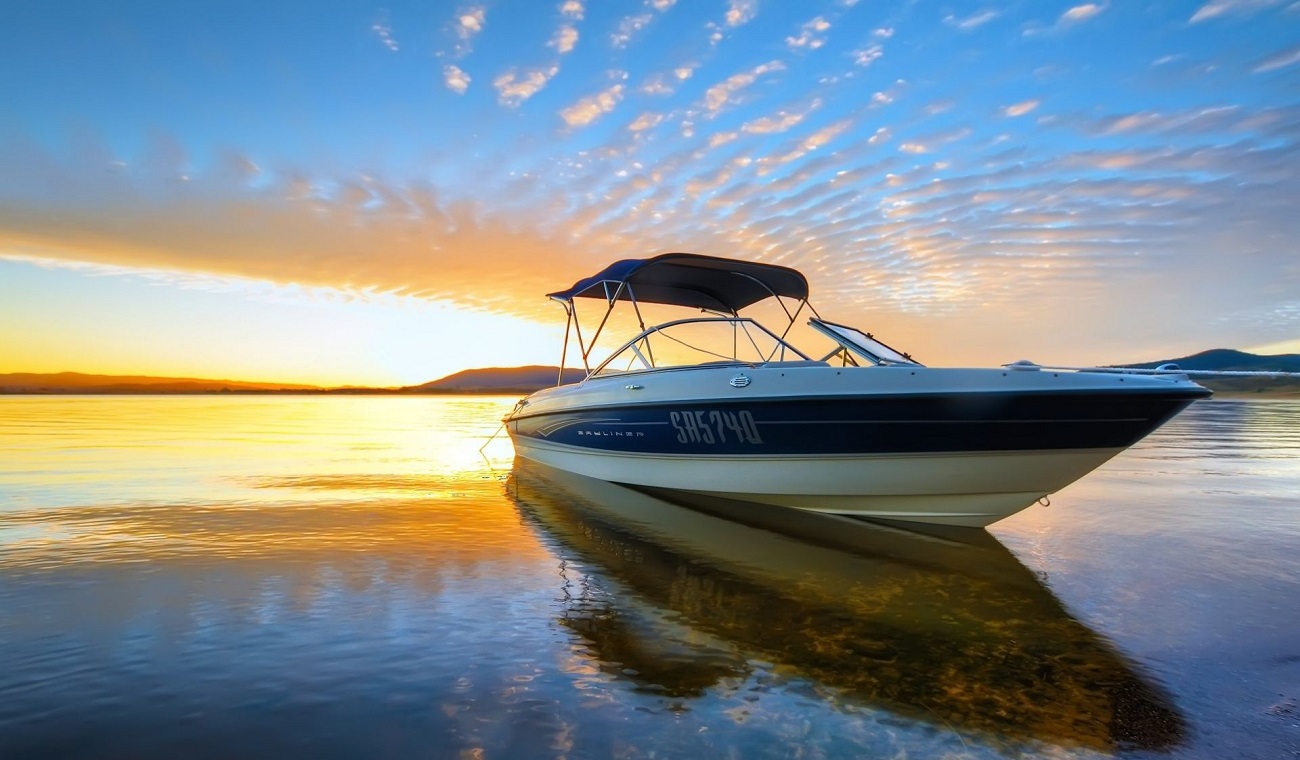 USA: The Top 10 Boating Cities
The top 10 best boating cities across the United States were searched and found by the American magazine BoatUS.
Just as travel to the United States reopened, the American magazine, in consideration of eager travelers, discovered 10 cities that include miles of shoreline, friendly communities, laidback recreation, and an overall satisfying experience for boating activities. The cities that made the best boating locations are:
Anacortes, Washington
Charleston, South Carolina
Clear Lake, Houston, Texas
East Tawas, Michigan
Benton County, Arkansas
Gloucester, Massachusetts
Dickinson County, Okoboji, Iowa, Great Lakes Area, Iowa
Sausalito, California
St. Augustine, Florida
Stevensville, Maryland
With the rise of remote work and with many Americans reassessing where they might like to live, it's become easier than ever to relocate to a suburb or small town that fits your lifestyle. With that in mind, BoatUS Magazine looked at compelling locations across the country and put together a list of some of the most livable boating towns in the country — for families, young professionals, and retirees.
Anacortes, Washington
With more than 478 miles of wild and rural shoreline to explore, you could cruise the San Juan Islands for a lifetime and never get bored. This Pacific Northwest boating capital is known as the «home port of the San Juan Islands», an extraordinarily beautiful archipelago of more than 400 islands and rocks stretching between Northwest Washington and Vancouver Island. 
Population: 17,527
Cost of living: 27% above the national average
Median home value: $406,400
Boating highlights: Once known as Ship Harbor, Anacortes has 65 miles of shoreline (Fidalgo Island) and five freshwater lakes, a vibrant maritime community boasting six marinas (slips $8–$17/foot/month) and shipyards, plus the second largest bareboat charter fleet in the world and a top-notch marine trades school. Season is May to October.
Western Washington's University's Shannon Point Marine Center offers programs in the marine sciences as well as ocean literacy and STEM activities for the general public. The Skagit Valley College Marine Technology Center offers marine trades programs.
Charleston, South Carolina
If you choose to call Charleston home, you won't have trouble meeting people. It's considered one of the friendliest cities in the country.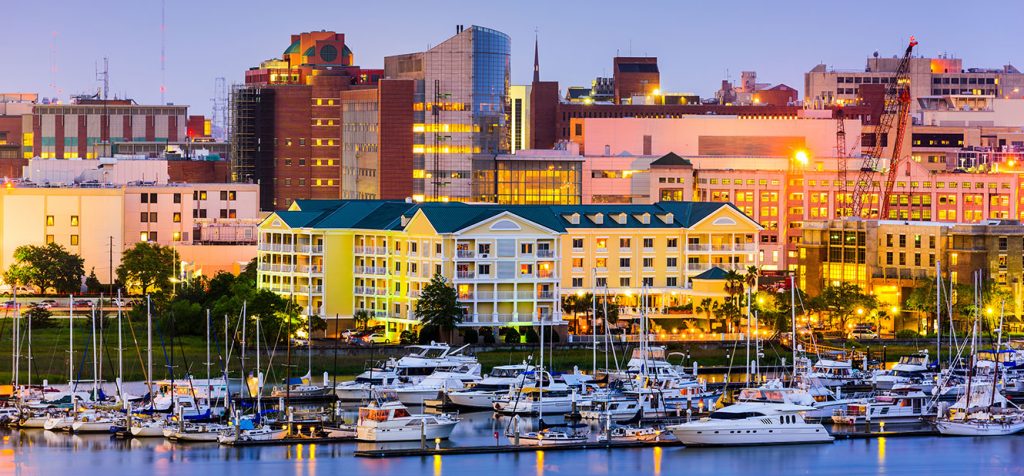 Population: 137,566
Cost of living: 11% above the national average
Median home value: $330,600
Boating highlights: Three rivers flow into Charleston Harbor, an 8-square-mile inlet and part of the Intracoastal Waterway. Dozens of marinas and boatyards (slips $17—$24/foot/month, long wait lists). Season is February to December.
ounded in 1680, the historic port city of Charleston has plenty to offer today's boater. This all-weather inlet lies roughly halfway down the South Carolina coast at the confluence of the Ashley, Cooper, and Wando rivers. Its protected waterways and shorelines wind through cobblestoned historic neighborhoods, prerevolution plantations, and waterfront dining districts. Locals frequently congregate at sandbars or popular raft-up spots like Dewees and Capers islands.
For those looking to explore farther afield, the "Lowcountry" waterways, between Charleston and Savannah, Georgia, offer pristine barrier islands, spectacular estuaries, and charming ports of call. For racers, there are several exciting events on the calendar, including the Charleston to Bermuda Yacht Race.
Clear Lake, Houston, Texas
The Clear Lake neighborhood blends Houston's downtown hustle and bustle with laid-back lake recreation.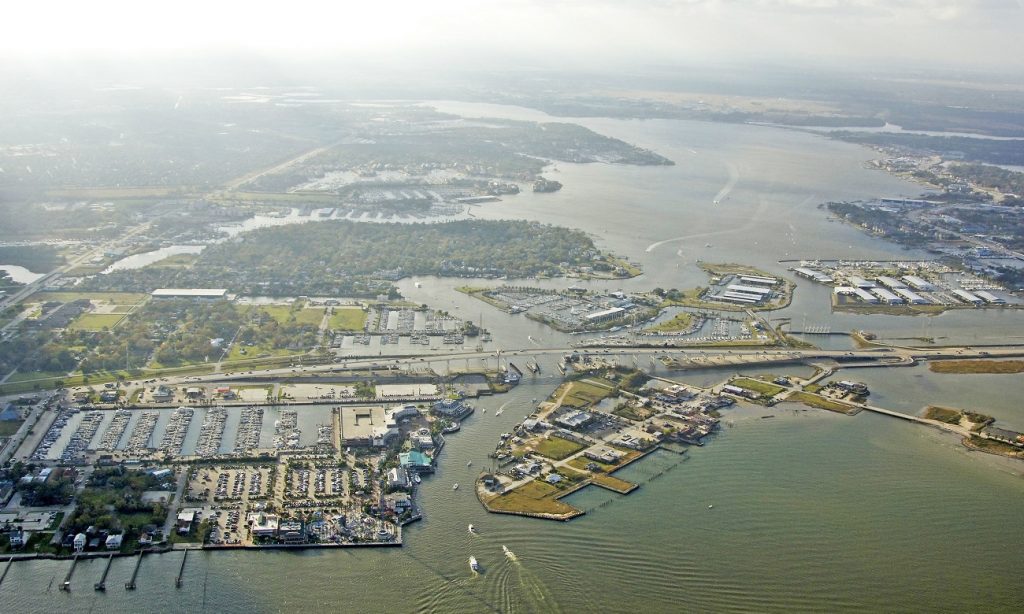 Population: 141,980
Cost of living: 14% above the national average (League City)
Median home value: $229,063
Boating highlights: With more than 20 marinas, boatyards, and yacht clubs (slips $300—$550/month), Clear Lake rests on the shores of a 2,000-acre lake that empties into Galveston Bay. The brackish water hosts a unique ecosystem that's a spawning ground for crabs, shrimp, oysters, and lots of fish. It's the nation's third-largest pleasure-boat basin and is a popular destination for fishing and watersports. Season is January to December.
The Clear Lake area is the perfect place to launch a new adventure. It's home to the Johnson Space Center and one of the country's largest pleasure boating basins. Explore bayous, rivers, wetlands, and marshes, and after a fun-filled day, dock and dine at restaurants like the Marina Bar and Grill in the Galveston Yacht Basin, or Number 13 Prime Steak and Seafood at Pelican Rest Marina. 
East Tawas, Michigan
Rediscover those lazy hazy days of summer in this tiny Great Lakes town.
Population: 2,723
Cost of living: 14% below the national average
Median home value: $95,500
Boating highlights: The Tawas area is located in a protected bay on the west shore of Lake Huron. This area offers 40 miles of Great Lakes shoreline and almost 12,000 acres of lakes and ponds. Roughly 70% of the East Tawas area is water! The recently upgraded East Tawas State Dock is a first-class marina with 140 slips and all the amenities you could want, including a boat launch, playground/park, and pumpout services. There are 13 boat launches and an additional two marinas in the area – Jerry's Marina and Tawas Bay Condominium Marinas (slips $60/foot, summer season). Boating season is May to October.
If you're hankering for simple small-town life served up with a slice of spectacular lakeside scenery, you'll love this quaint boating town. The warm, protected waters and consistent winds make Tawas Bay popular with sailors, paddlers, and powerboaters. Anchor out and take in the Charity Island Lighthouse. The bay is also considered a premier kiteboarding spot, and fishing is good year-round with opportunities to catch walleye, northern pike, yellow perch, brown trout, and smallmouth bass.,
Benton County, Arkansas
Benton County might not be on your radar, but if you love boating, it should be.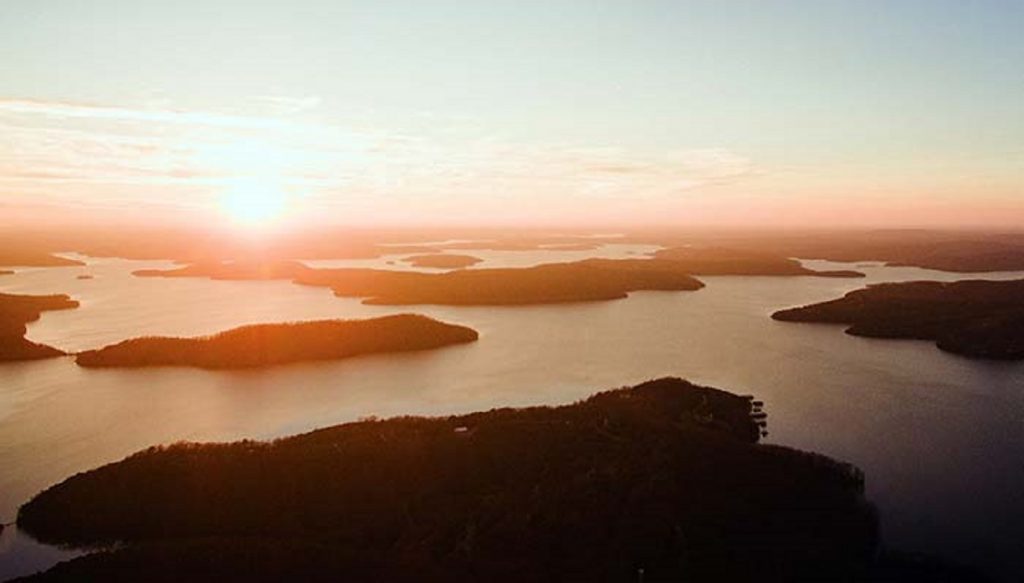 Population: 279,141
Cost of living: 8% below the national average (Bentonville)
Median home value: $183,400
Boating highlights: This Midwest gem is in the heart of Arkansas lake country. Beaver Lake, the largest body of water in the area, encompasses 28,370 acres of water. The 480-some miles of shoreline meander through limestone bluffs, natural caves, and spectacular Ozark Mountain scenery. Its waters offer some of the best bass fishing in the state with an abundance of largemouth and striper bass. The open and deep lake waters accommodate boats of all types, from PWCs to houseboats. Seven marinas (24- to 30-foot slips, $180-$250/month) and 22 launch ramps surround the lake. Boating season is May to September.
Gloucester, Massachusetts
This very livable town is steeped in fishing and shipbuilding history.
Population: 30,430
Cost of living: 36% above the national average
Median home value: $425,400
Boating highlights: In 1605, explorer Samuel de Champlain called Gloucester "the beautiful harbor," and it continues to captivate boaters to this day. Gunkhole in the protected waters of the Annisquam River, or cruise to delightful East Coast ports like Provincetown and Casco Bay. For small boats, Essex Bay and the Annisquam River are boatable in virtually any weather. Bigger boats can cruise to Cape Cod's Provincetown or Maine's Casco Bay in a summer daylight hop. There are 17 marinas (slips $180/foot for season, long wait list). Boating season May to October.
Gloucester sits on a rocky cape in northeastern Massachusetts. The protected waters of the Annisquam River and Blynman Canal bisect Cape Ann, connecting Annisquam Harbor to the north with Gloucester Harbor to the south. This unique geography offers a broad variety of boating landscapes from impressive granite cliffs (Halibut Point, Bass Rocks) and breathtaking sand beaches (Good Harbor, Wingaersheek) to marshy creeks and bays (Walker Creek, Essex Bay).
Dickinson County, Okoboji, Iowa Great Lakes Area, Iowa
Okoboji is a blue boating oasis in the midst of endless rolling cornfields.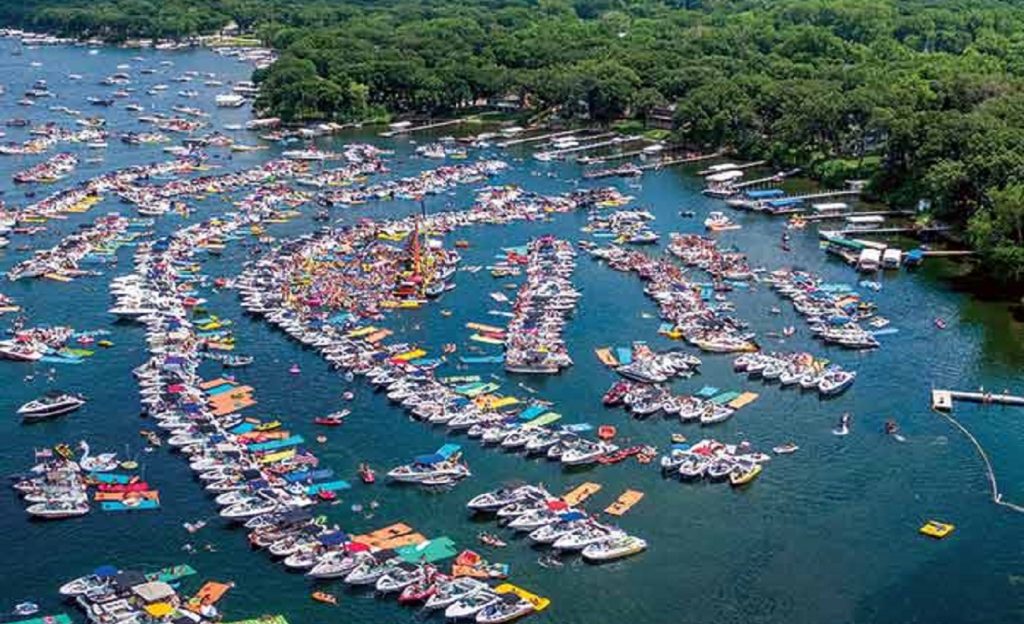 Population: 17,258
Cost of living: 8% below the national average (Spirit Lake)
Median home value: $194,300
Boating highlights: Six natural lakes covering more than 12,000 acres with 70 miles of shoreline. There's no reason to get off your boat in Okoboji. The whole community is organized to keep you floating, offering 25 boat-accessible restaurants and bars, concerts on barges, and even a boat-accessible mall (The Central Emporium). The weekend brings a lively scene with wakeboarding in the mornings and Saturday afternoon raft-ups at various bays (e.g., Millers Bay, aka "Party Cove"). Four marine service providers offer storage, slips, servicing, and rentals (dry-rack summer storage starts at $2,800). Boating season is May to October.
Six glacier-carved lakes make up this playground for boating and watersports lovers in America's heartland. The Iowa Great Lakes chain consists of Spirit Lake, Iowa's largest natural lake, and five smaller interconnected lakes. Spring-fed West Lake Okoboji is known for its exceptional water quality and color. The shoreline extends through canopies of stately oak trees, sand beaches, and an amusement park that is home to Legend, one of the country's oldest wooden roller coasters.
The Okoboji Yacht Club, 500 members strong, organizes races for five classes of boats. Lake locals consider Spirit Lake the "Fishing Capital of the World." In early May, the region hosts a popular "Walleye Weekend" tournament to kick off the season.
Sausalito, California
Enjoy the best of San Francisco Bay in this colorful houseboat community.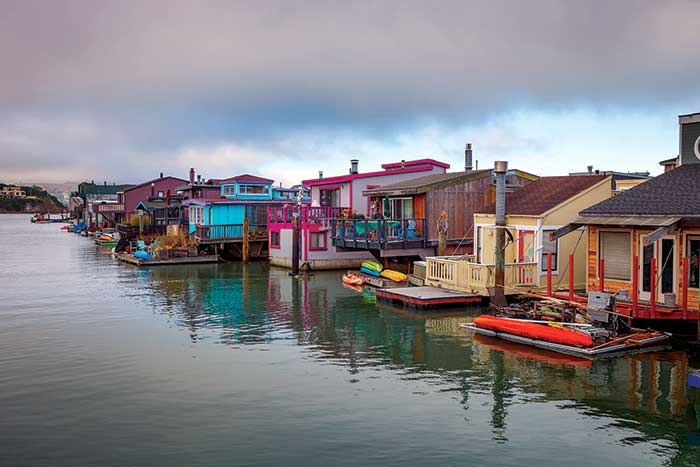 Population: 7,068
Cost of living: 144% above the national average
Median home value: $1,346,000
Boating highlights: San Francisco Bay is 550 square miles and the largest estuary on the West Coast. Its shoreline is approximately half the length of California's coastline. Situated near the north end of the Golden Gate Bridge, Sausalito backs onto the Golden Gate National Recreation Area, an expanse of wooded hillsides and tidal flats, offering spectacular views of San Francisco. The town is known for the Arques School for traditional wooden boatbuilding, the Sausalito Community Boating Center, and a handful of nonprofits dedicated to maritime education, history, and arts. Six marinas (slips $13–$28/foot/month). Boating season is May to November.
With direct access to San Francisco Bay, there's no end of activities to choose from. Dock for the day and explore Angel Island State Park, cruise through wine country along the Napa River, or anchor in Aquatic Park Cove and spend an evening enjoying the restaurants and nightlife along the piers.
St. Augustine, Florida
This historic seaport offers the best of oceanfront living with a decidedly refined and European feel.
Population: 15,415
Cost of living: 3% above the national average
Median home value: $271,000
Boating highlights: Sail by beautiful Atlantic beaches or explore protected rivers and sections of the Intracoastal Waterway. Boaters can explore saltwater marshes, estuaries, or the San Sebastian, Tolomato, and Matanzas rivers that weave in and out of the St. Augustine area.
Anglers will feel right at home. Whether you like to fish inshore or offshore, freshwater or saltwater, St. Augustine has it all. Redfish, drum, and trout run in the inshore waterways, while kingfish, tuna, and wahoo can be found at sea. A dozen marinas, harbors, and boatyards (slips $18–$33/foot/month). Boating season is January to December.
If you're looking for a place with deep maritime roots, look no further than St. Augustine, the nation's oldest city and first seaport. 
Stevensville, Maryland
Big-city access, bucolic surroundings, and boating bonanza? You can have it all in Stevensville.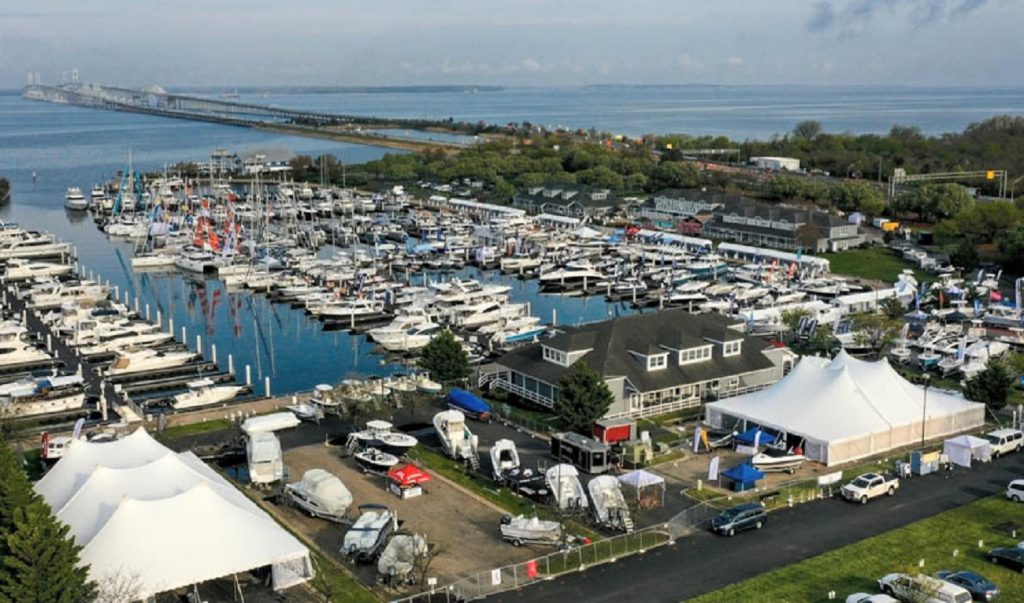 Population: 6,485
Cost of living: 28% above the national average
Median home value: $362,800
Boating highlights: Chesapeake Bay is the largest estuary in the United States, and the watershed has more than 100,000 tributaries, making it an extraordinary cruising ground with myriad nearby boating destinations. A cluster of marinas, yacht clubs, and boatyards in Kent Narrows offer a range of marine services alongside scenic waterfront dining. Boat ramps can be found all over the island and locals enjoy excellent crabbing and fishing. Seasonal slips run $5,000/30 feet to $12,000/70 feet. Boating season is April to October.
Stevensville sits on Kent Island on the northeastern shore of Chesapeake Bay, directly across the water from Annapolis. With Chesapeake Bay, Eastern Bay, and the Chester River close at hand, Stevensville is an ideal place to live and go boating. Chesapeake Bay's more than 11,684 miles of shoreline provides a wide range of boating destinations from the big bustling port of Baltimore (Patapsco River) and medium-size sailing town Annapolis (Severn River) to many small shoreside communities like St. Michaels (Miles River), Chestertown (Chester River), and Havre de Grace (Susquehanna River). There are scores of tributaries to explore and endless opportunities for gunkholing, picnics, watersports, and fishing.